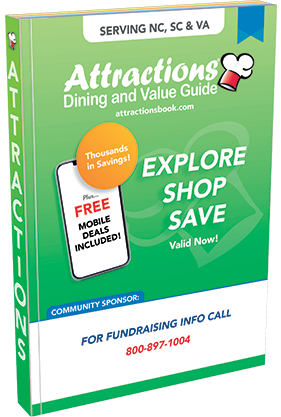 Attractions® Dining and Value Guide
The Attractions® Dining & Value Guide is a money-saving coupon book featuring hundreds of valuable discounts from an area's best establishments. We feature only FREE and Buy One Get Free and VIP certificates with minimal exclusions. Every Attractions® Dining & Value Guide features the menus of the restaurants listed so that you can find those places that appeal to you and your family most. Each guide comes with complimentary access to our Mobile Deals so that you may find places near your location, or enjoy the great offers from your mobile device. The Attractions® Dining & Value Guide is available for cities in North Carolina, South Carolina and Virginia, with more editions on the way.
Fundraising Made Easy
At Attractions® Dining & Value Guide, we know you want to see your organization have all the funding it needs. To do that, you need an easy way to raise money. Your volunteers are busy and it can be challenging to get them excited to participate in fundraisers. It's frustrating to watch poor participation cost you uniforms, equipment, and trips. Fundraising should be a boost to your organization, not a burden.
As parents and volunteers ourselves, we understand how important it is to raise money for your organizations and how frustrating it can be when people just don't want to participate. That's why we work with more than 6,000 fundraising groups in the US, raising millions of dollars for schools, youth sports, religious organizations, and community groups each year. Our Attractions® Dining & Value Guide Books are easy to sell, save buyers money, and support local businesses instead of just going to a company in another state.
Request a call from one of our Fundraising Specialists today. In the meantime, download our free guide, Three Simple Steps to Fundraising Success. Don't struggle to gain volunteer participation, get stuck with products that don't sell, or fail to meet funding goals. Exceed your expectations, sell a product that has real value, and make sure your organization has all the funding it needs to make a difference.